Joined

May 2, 2014
Messages

32,723
Location
I am sure we have all seen animated GIFs used on forums or Facebook or Twitter. They are basically short little soundless clips, often with captions added to make memes. So, things like this: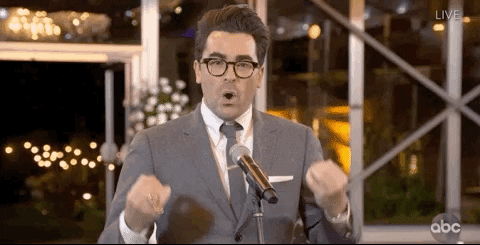 (Dan Levy's reaction to one of his Emmy wins for Schitt's Creek, FYI)
One of the best places to find a GIF for every occasion is Giphy, an archive of GIFs from a wide range of creators. For instance, Swear Trek, which produce vulgar memes from Star Trek clips, has its archive on Giphy now (its run by a Canadian, BTW).
The upgrade will introduce a connection to Giphy so that you can search for and add animated GIFs right in the Xenforo post editor. You click a button that looks like this
Sadly, Swear Trek will not be available. In compliance with our Code of Conduct, I am putting a rating restriction of PG on Giphy for Wondercafe2 purposes. Well, unless a lot of us think we should allow strong stuff (remember that the censor won't affect captions in images).
Last edited: